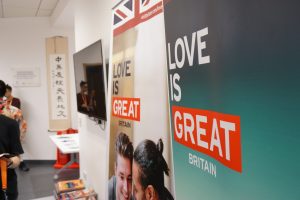 On June 18th, 2019, our research team organised another film screening and seminar jointly with British Council Guangzhou Office at British Consulate-General (Guangzhou). This event was part of the Guangzhou LGBT Film Festival 2019. British Consulate-General kindly provide the venue for free. Around 50 people who applied for the seats online attended the event.
Dr. Ting Guo and Dr. Jonathan Evans, who are the PI and CoI of the project, presented a talk on their preliminary research finding in this project. Dr. Benedict Morrison, as the special guest, also gave a fascinating talk on "The history of queer cinema".
In the Q&A section, the audience raised several interesting questions regarding the short films screened and the understanding of queer cinema in general. 
The event was a great success. It provides a rare chance for local LGBT people and the general public to participate in the discussion of queer cinema, a topic potentially sensitive in China, and it also enhances our research team's understanding of local culture and the potential social impact of queer media contents.