On March 29, 2019 we launched our first screening and seminar, "Approaching British Queer Cinema", jointly with British Council Beijing Office at the British Embassy Residence in Beijing.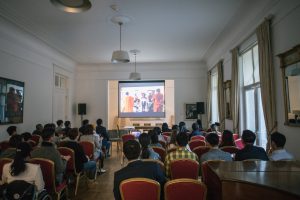 This event was part of the annual free worldwide viewing campaign, "Five Films for Freedom", organized by BFI Flare/London LGBTQ+ film festival and the British Council. We are very happy to be able to support the screening of these films and organize the follow-up seminar.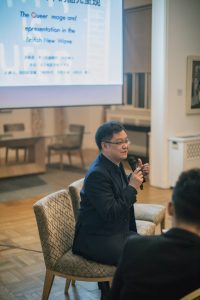 In the seminar, the project's Principal Investigator, Dr Ting Guo, introduced the "Translating for Change" project. Our invited speaker, Dr Benedict Morrison from the University of Exeter and Professor Li Ershi, from Beijing Film Academy, both experts on queer cinema, talked about their latest research on Anglophone queer cinema. Dr Morrison's talk has been recorded and subtitled in both English and Chinese.
The event was a great success. Apart from attracting the general public, we also had a great audience from various Chinese LGBTQ organizations and postgraduates who are interested in Anglophone queer cinema.
Thanks to  British Embassy Residence in Beijing for providing the venue and to staff of British Council China and Beijing office for helping the organization of the event and the promotion of the event in China.