Welcome to the website for the AHRC funded project 'Translating for Change', which investigates the ways that English-language queer cinema has been translated and used in China.
In a country where access to LGBTQ+ and queer media is often restricted, how do fans watch it? What happens when they watch it? How does it interact with other areas of LGBTQ+ activity?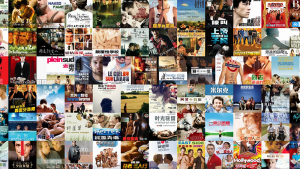 Through an investigation of fan subtitling practices, queer film festivals, interviews, international support and other features of queer cinema watching in China, the project aims to find out how the translation of queer cinema in China influences and interacts with local understanding of queerness and queer practices.
Bringing together researchers from the universities of Exeter and Portsmouth with members of the amateur subtitling groups QAFone and Jihua and the LGBT organisation Aibai, the project will produce scholarly articles, videos, an exhibition, seminars, a conference and an industry report. It aims to stimulate discussion about the circulation of queer media and ideas and recentre discussions of queer theory away from the Global North.
More information about different aspects of the project can be found on the tabs above.